I just can't help myself anymore... I'm totally fallen in love for the digital images of
A day for daisies!
Really smitten on them.... they are so sweet and touching.... so when I saw that we at
Totally Papercraft Challenge are having a Back to School theme for the challenge this week...
I knew this little guy was perfect for it.
He's called "I can read"
I colored the little guy with my pencils again. I don't use odorless terpentine of babyoil...
just keep adding layers of lots of different colors to get to this kind of coloring..
The girls of the team made another load of beautiful and fun cards for you and sinse
we have two sponsors... it's an extra reason to go to your room and craft us a wonderful
Back to school card!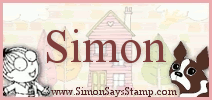 and
Wuth the help of Feline Playful I enter this card into the following challenges:
Fairy Tale - back to school
Inspire Me Fridays - always anything goes
Jellypark Challenges - punches and/or die cuts (letters)
Phindy's Place - make own embellies (letters)
Poodles Parlour - anything goes
Show and Tell - Anything goes
Stamp Something - back to school somethings
With love